Update – 3/23/2020:
In response to the pending safer-at-home order for all Wisconsinites, Burlington Library will be suspending curbside holds pickup beginning on Tuesday, March 24. Library book-drops will also be closed, and all due dates will be extended until we reopen. You can still get to all of our digital resources via http://www.burlingtonlibrary.org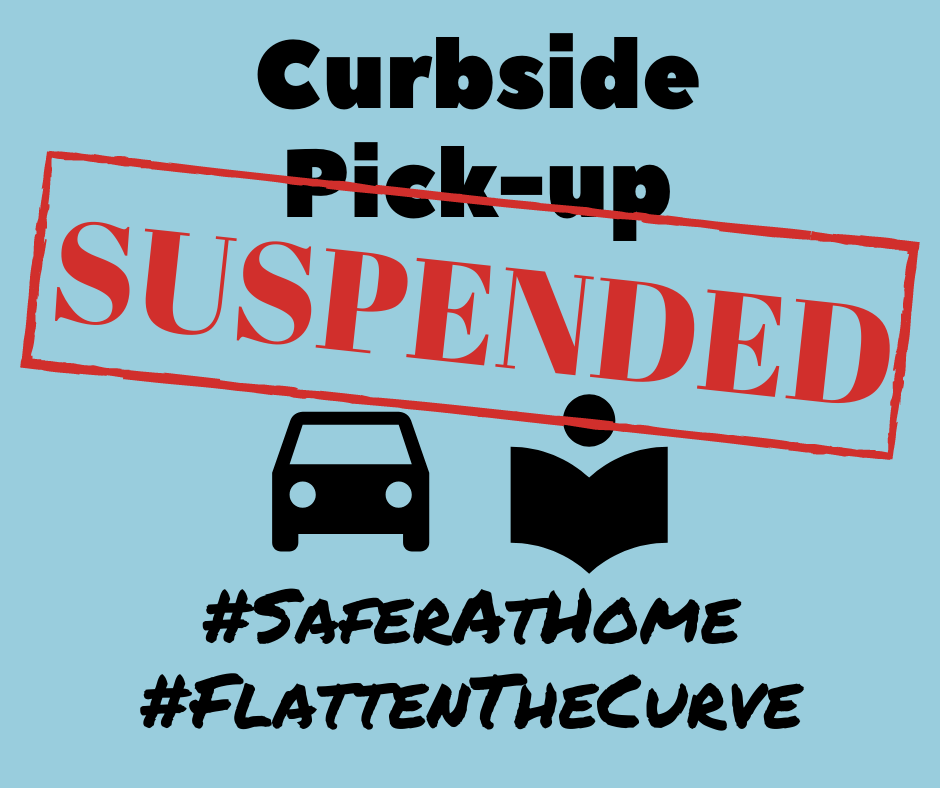 Update – 3/16/2020:
How does curbside pick-up work?

Step 1: Place a reservation on an item using the Library Catalog or by calling the library for assistance.
Step 2: Call the library for pick-up. You can either:

Call before you come and we'll leave it on the shelf outside the Jefferson Street entrance for you to grab, or
Call when you arrive and we'll bring your items down to your car.

Curbside pick-up will be available for materials on the following schedule this week:

Tuesday: 2:00 – 6:00 p.m.
Wednesday-Saturday: 10:00 a.m. – 2:00 p.m.

What is the best way to contact the library for help?


email: ask@burlingtonlibrary.org
phone: 262-342-1130 (please leave a voicemail if no one picks up)

How do I get a library card? Or get a new one? Or renew the one I have? Or get a PIN?

Call the library for help: 262-342-1130

What will the library staff be doing during the closure?


Helping with the curbside delivery service and helping people with telephone-based inquiries
Preparing for the summer reading program and other future programs
Providing some remote programming via Facebook
Over half of our staff are in a high-risk category for COVID-19. We are asking them to work from home. They'll be helping with e-mail requests, training on tech topics, or just staying safe at home
We're still working out a lot of the details. If you call and no one picks up, please leave a voicemail so that we can reach you.

What can I access with my library card without leaving home?
Will I still be able to get materials from other libraries?

Inter-library delivery services are expected to be suspended at the end of this week or early next week.

What should I do with my items that are due?

All due dates have been extended to April 11, and will be extended again if the situation continues.
Anything that is returned will be quarantined for ten days before being checked in or handled by library staff.
Registering for a FREE Digital Library Card
---
Update – 3/14/2020:
The Library building will be closing to the public beginning on Tuesday, March 17. 
Curbside pick-up of materials will be offered (details TBD).
All due dates for Burlington materials are extended to April 6.
All public programs are cancelled through at least March 29 April 4, 2020.
---
Dear Patrons,
The safety of our patrons and employees is a priority to Burlington Public Library (BPL). We are working to stay on top of this evolving COVID-19 situation by following guidelines from the Centers for Disease Control, WI Department of Health Services, and the Central Racine County Health Department.
Our current plan is to: 1) prioritize the safety and health of our staff and patrons; 2) continue serving your library needs for the time being; 3) plan ahead for changing circumstances.
What can you do?
Wash your hands. Cough into your elbow. Stay home if sick.
According to the most recent information from the CDC, for most people, the immediate risk of being exposed to the virus that causes COVID-19 is thought to be low. We encourage any concerned patrons, especially those in high-risk populations, to stay home if they are feeling ill or are simply concerned about potential exposure.
Please keep in mind, as a public space, the Library cannot guarantee a germ-free environment or germ-free physical materials. You need to consider if using library materials, or visiting the Library or other public spaces, is best for you and your family. As a reminder, the Library has many digital services available to you for free; check out our collections at https://www.burlingtonlibrary.org/resources/
What is Burlington Public Library doing?
Library Cleaning: We want you to feel confident visiting BPL. We contract with an outside cleaning company which cleans the library three times per week. In addition, library staff have developed a schedule of disinfectant wipe-downs of high-traffic areas like counters, door handles, light switches, keyboards, tables, etc.
Library Materials Cleaning: Collection materials are not disinfected when they are checked-in or as they are browsed or used in-house due to limited resources and supplies.
Staff and Patron Hygiene: While supplies last, we are making hand sanitizer and wipes available to staff and patrons, plus we are encouraging frequent hand-washing by everyone.
Library Services: We are developing staffing and service models should we need to reduce services.
Next Steps: We are monitoring this developing situation closely, staying up-to-date on info from federal agencies, health organizations, and other experts.
We will continue to communicate any further impacts to BPL. Thank you for working with us to keep BPL a healthy environment.
Have a safe and wonderful day,
Joe Davies MLIS, MA
Library Director
jdavies@burlingtonlibrary.org
262-342-1133