View Full Calendar of Upcoming Kids Events
Events for Kids
Summer Reading!
May 24-July 31
We're back!
Join us at the Burlington Public Library for "Tails and Tales" this summer! We have a Reading Program where children of all ages can earn prizes by completing weekly bookmarks of fun reading activities. Kids will also have a chance to win a grand prize. Sign up at the library or find us on the Beanstack app. Don't miss out on these great prizes just for reading!
Teen Volunteers Needed
We need your help with this year's summer reading program, and you need community service hours. So, let's work together!  Sign up for the 2021 Summer Reading Program at https://signup.com/go/jGqNhRu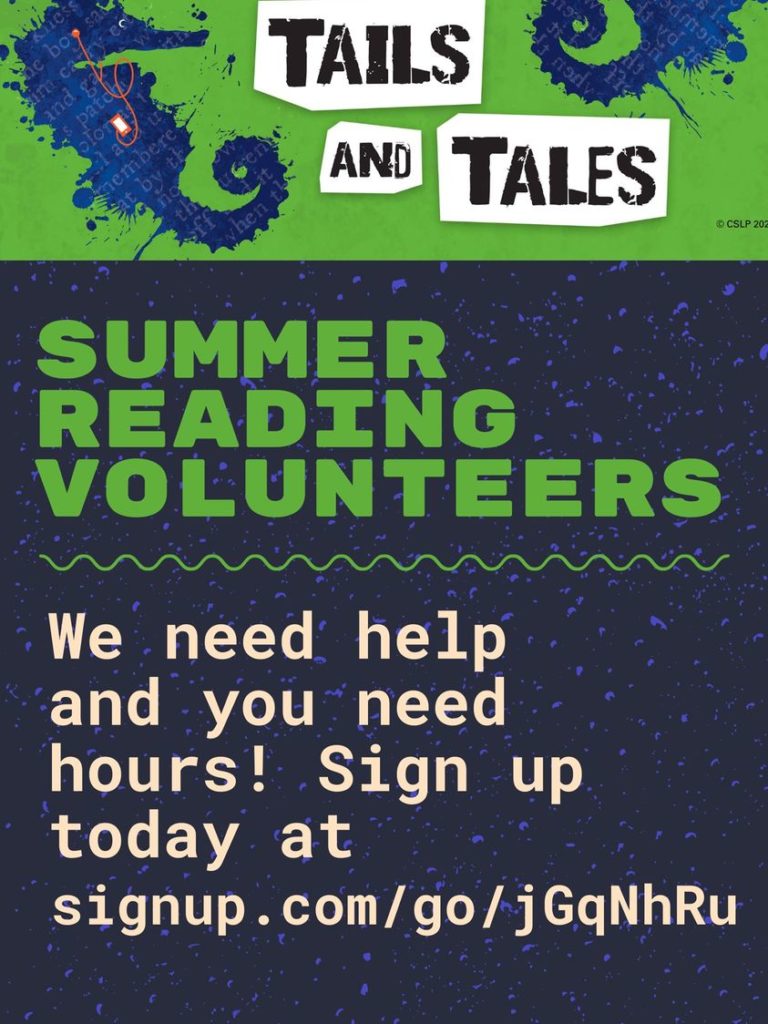 Brick This!
Mondays (except holidays) 6:30 p.m.
Wemhoff/Jucker Park
Ages 5-12
Stretch your creativity and engineering skills with our weekly Lego challenges! We'll be meeting 2 blocks from the library at Wehmhoff/Jucker Park under the pavilion by the river. Registration is required.
Storytime
Tuesdays @ 10:00 and 11:00
Wehmhoff/Jucker Park
Ages 0-5
Join us under the pavilion at Wemhoff/Junker Park for songs, stories, and a craft! Registration is required.
Baby Sign Storytime
Thursdays @ 9:15
Burlington Library Facebook Page
Ages 0-3
Log on to Facebook with your little on to learn Baby Sign with Miss Emily in this Facebook Live storytime. We'll learn a few signs, then practice using them as they come up in our songs and stories. Communicating with your baby or toddler can be difficult. These basic signs could help ease some frustration and hopefully avoid a tantrum or two!
Read to a Service Dog
Wednesdays 10:00-11:00
Burlington Public Library
Ages 4-12
Practice your reading skills and chill out by reading aloud to one of our volunteer service dogs! Registration is required.
Elementary Explorers
Thursdays @ 10:00 a.m.
Wehmhoff/Jucker Park
Grades 1-6
Join us under the pavilion at Wehmhoff/Junker Park to learn, create and play together. For children going into grades 1-6. Registration is required.
Wooly Sheep to Woven Yarn
Monday, June 7 @ 10:00 a.m.
Wehmhoff/Jucker Park
Ages 8 and up
You ever look at a fluffy sheep and think "How exactly does that become a sweater?!" Or do you know a little about sheep or spinning or wool, but would like to try it for yourself? Then join us as we take wool straight off the sheep and turn it into a lovely woven coaster for you to take home. You'll also be going home with your very own DIY drop spindle so you can keep practicing on your own!  Registration is required.
Reader's Theater for Kids
Mondays @ 10:00 a.m.
May 24, July 19, August 9
Wehmhoff/Jucker Park
Grades K-6
Let your star shine in our very own Reader's Theater facilitated by Suzanne Deans! Retell fun stories by working together to act them out. No practice acting? No problem! We're all just here to have fun! Registration is required.
Miss Wisconsin Presents–Hula Hooping for Inclusion!
Monday, June 14 @ 10:00 a.m.
Wehmhoff/Jucker Park
All Ages 18 and Under
The real, live Miss Wisconsin will be joining us at the park to have fun and teach an important lesson: it's important to value everyone's contributions and make them feel included. Join us for a fun event and a Q and A with Miss Wisconsin! Registration is Required.
Community Freedom Quilt
June 19 @ 10:00 a.m.
Wehmhoff/Jucker Park
All Ages
Join us this Juneteenth to create a community quilt with your friends and neighbors. You'll have the chance to decorate a quilt square representing your vision for Burlington's Anit-Racist Future. We'll supply fabric, paint, markers, and basic hand sewing supplies for you to work with. Afterwards, we'll sew it together into a beautiful quilt created by the whole community for you to see on display at the library.  No registration required.
Terrific Terrariums!
Monday, June 21 @ 10:00 a.m.
Wehmhoff/Jucker Park
All Ages
Create your own terrarium to take home and enjoy! Learn about the plants involved and how different parts of this micro-ecosystem interact. Registration is required.
4th of July Teddy Bear Sleepover!
July 3-5
Burlington Public Library (watch our Facebook Page for updates)
Ages 2-8
Drop off your favorite stuffy at the library so they can party together for Independence Day! While you celebrate at home with your families, the teddy bears will be throwing their own party–inside the library! We'll post pictures throughout the evening so you can see what a fun time they're having. Pick them up the next day so you can tell your bear all about your Fourth of July and they can share about their party. Registration is Required. 
Paint and Snack
Monday, June 28 @ 10:00 a.m.
Wehmhoff/Jucker Park
Ages 5-12
Let's get creative! We'll be painting together at the park this Monday. Join us for some fun and food. Registration is required.
Kohl's Wild Theater
Monday, June 28 @ 10:00 a.m.
Online Event
All Ages
Things might look different this year, but Kohl's Wild Theater is up to their old tricks! Get online and watch this yearly favorite wow you with their wild performance! Registration is required.
Craft-o-Rama
Monday, August 2 @ 10:00 a.m.
Wehmhoff/Jucker Park
All Ages
We've been stocking up all year on odds, ends, bobbins, and bits. Stop by to see what crazy, fun, silly things you can make! No registration required.
Bingo Night
Wednesdays @ 6:30 p.m.
May 26, June 9, June 23, July 21
Wehmhoff/Jucker Park
All Ages
Come play everyone's favorite game and win some cool prizes! Registration is required.
Family STEAM
Every Other Wednesday @ 6:30 p.m.
May 5 & 19, June 2, 16, & 30, July 14 & 28, August 11 & 25
Zoom
Grades 1-5
Join Miss Emily for fun experiments and eye-opening science as we explore the world around us.  Registration Required. 
The Figureheads Musical Group in the park
Thursday, August 12 at 10:00 a.m.
Jeremy Bryan is a performing artist, educator and author with a background in youth work and nonprofit arts outreach. He won an Independent Publisher's Award and a Parent's Choice Gold Award for his writing with the musical act The Figureheads. He holds a Masters Degree in Liberal Studies from UW-Milwaukee and his thesis was published in the book "Hip-Hop(e): The Cultural Practice and Critical Pedagogy of International Hip-Hop (Adolescent Cultures, School, and Society)" which won the 2014 AESA (American Educational Studies Association) Critics Choice Award.
New Beginning Chapter Book Section!
Are you ready to make the jump to chapter books this summer? Do you have a hard time finding new books to read among the huge selection of long books for older kids? Well we just made it easy to find your next favorite book! Check out our new Beginning Chapter Book section. Each book is marked with a blue Level 5 to make it easy to identify. Come by the library and check us out!
Threatening Weather
Please call the library at 262-342-1130 to see if we are open and programs are not canceled.  We alert Channels 4, 6 and 12 when the library is closed due to bad weather.