Mondays, September 11 – November 27, 1pm
Join us at the library every Monday afternoon at 1pm for a free screening of a recently-released- to-DVD movie. The focus will be on award-winning and well-reviewed films released within the last year and movies with a literary connection. Enjoy some popcorn and stay afterward to talk about the movie with your neighbors. Film ratings range from PG to R, so this program is intended for grown-ups. Please note that movie selections may change at any time.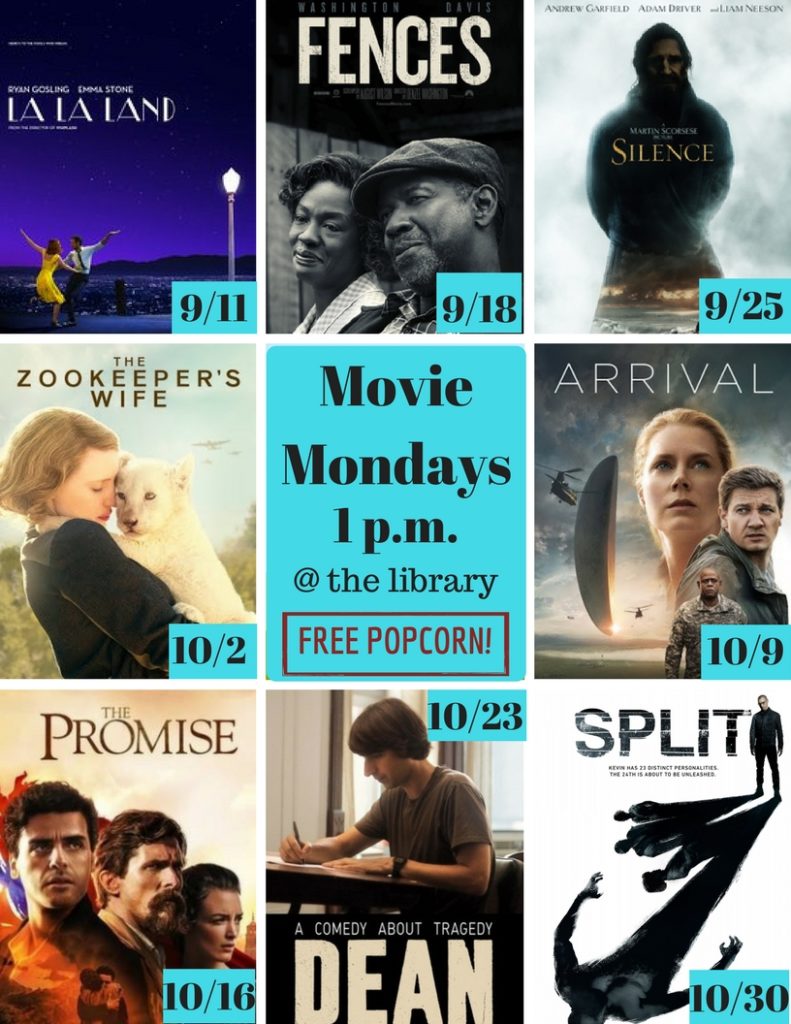 10/2/2017
Zookeeper's Wife
Rating: PG-13
Rotten Tomatoes positive reviews: 60%
The real-life story of one working wife and mother who became a hero to hundreds during World War II. In 1939 Poland, Antonina Żabińska (portrayed by two-time Academy Award nominee Jessica Chastain) and her husband, Dr. Jan Żabiński (Johan Heldenbergh of "The Broken Circle Breakdown"), have the Warsaw Zoo flourishing under his stewardship and her care. When their country is invaded by the Germans, Jan and Antonina are stunned – and forced to report to the Reich's newly appointed chief zoologist, Lutz Heck (Daniel Brühl of "Captain America: Civil War"). To fight back on their own terms, Antonina and Jan covertly begin working with the Resistance – and put into action plans to save lives out of what has become the Warsaw Ghetto, with Antonina putting herself and even her children at great risk.
10/9/2017
Arrival
Rating: PG-13
Rotten Tomatoes positive reviews: 94%
When mysterious spacecraft touch down across the globe, an elite team–lead by expert linguist Louise Banks (Amy Adams)–are brought together to investigate. As mankind teeters on the verge of global war, Banks and the team race against time for answers–and to find them, she will take a chance that could threaten her life, and quite possibly humanity.
10/16/2017
The Promise
Rating: PG-13
Rotten Tomatoes positive reviews: 50%
Empires fall; love survives. When Michael (Oscar Isaac), a brilliant medical student, meets Ana (Charlotte Le Bon), their shared Armenian heritage sparks an attraction that explodes into a romantic rivalry between Michael and Ana's boyfriend Chris (Christian Bale), a famous American photojournalist dedicated to exposing political truth. As the Ottoman Empire crumbles into war-torn chaos, their conflicting passions must be deferred while they join forces to get their people to safety and survive themselves. The Promise is directed by Academy Award winning filmmaker Terry George.
10/23/2017
Dean
Rating: PG-13
Rotten Tomatoes positive reviews: 64%
Writer/Director/Comedian Demetri Martin stars alongside Academy Award winner Kevin Kline in this comedic and heartfelt tale about a father and son coming to terms with love, loss and everything in between. Dean (Martin) is an illustrator whose unwillingness to deal with the recent death of his mother means escaping his hometown of New York for an interview with an ad agency in Los Angeles. His retired engineer dad Robert (Kline) takes a more regimented approach to grief, including putting the family home up for sale. Both father and son set out on their own paths to find a new normal as unexpected circumstances and potential new love interests threaten to thwart all plans.
10/30/2017
Split
Rating: PG-13
Rotten Tomatoes positive reviews: 75%
Writer/director/producer M. Night Shyamalan returns with an original thriller that delves into the mysterious recesses of one man's fractured, gifted mind. Though Kevin (James McAvoy) has evidenced 23 personalities to his trusted psychiatrist, Dr. Fletcher (Betty Buckley), there remains one still submerged who is set to materialize and dominate all the others. Compelled to abduct three teenage girls led by the willful, observant Casey (Anya Taylor-Joy, The Witch), Kevin reaches a war for survival among all of those contained within him – as well as everyone around him – as the walls between his compartments shatter apart.
11/6/2017
Wedding Plan
Rating: PG
Rotten Tomatoes positive reviews: 84%
A dumped Israeli woman continues to plan for her wedding, believing she'll find a groom in time.
11/13/2017
13th
Rating: NR
Rotten Tomatoes positive reviews: 96%
The title of Ava DuVernay's extraordinary and galvanizing documentary refers to the 13th Amendment to the Constitution, which reads "Neither slavery nor involuntary servitude, except as a punishment for crime whereof the party shall have been duly convicted, shall exist within the United States." The progression from that second qualifying clause to the horrors of mass criminalization and the sprawling American prison industry is laid out by DuVernay with bracing lucidity. With a potent mixture of archival footage and testimony from a dazzling array of activists, politicians, historians, and formerly incarcerated women and men, DuVernay creates a work of grand historical synthesis.
11/20/2017
Beatriz at Dinner
Rating: R
Rotten Tomatoes positive reviews: 77%
Beatriz (Salma Hayek), an immigrant from a poor town in Mexico, has drawn on her innate kindness to build a career as a health practitioner in Los Angeles. Doug Strutt (John Lithgow) is a cutthroat, self-satisfied billionaire. When these two opposites meet at a dinner party, their worlds collide and neither will ever be the same.
11/27/2017
Churchill
Rating: PG
Rotten Tomatoes positive reviews: 48%
Tensions mount for the beleaguered British Prime Minister Winston Churchill (Brian Cox) in the days leading up to infamous Allied D-Day landings in Normandy, France in June, 1944. Fearful of repeating his deadly mistakes from World War I in the Battle of Gallipoli, exhausted by years of war, plagued by depression and obsessed with his historical destiny, Churchill is reluctant to embark on the large-scale campaign, one that the entire war effort hinges upon. Clashing with his Allied political opponents U.S. General Dwight D. Eisenhower (John Slattery) and British Field Marshal Bernard Law Montgomery (Julian Wadham), the troubled Churchill receives support and devotion from his wife, the brilliant and unflappable Clementine Churchill (Miranda Richardson). With her strength and shrewdness, "Clemmie" halts Winston's physical, mental spiritual collapse and inspires him on to greatness.
---
Previous Movies:
9/11/2017
La La Land
Rating: PG-13
Rotten Tomatoes positive reviews: 92%
Winner of 6 Academy Awards® including Best Director for writer/director Damien Chazelle, and winner of a record-breaking 7 Golden Globe® Awards, LA LA LAND is more than the most acclaimed movie of the year — it's a cinematic treasure for the ages that you'll fall in love with again and again. Emma Stone and Ryan Gosling star as Mia and Sebastian, an actress and a jazz musician pursuing their Hollywood dreams — and finding each other — in a vibrant celebration of hope, dreams, and love.
9/18/2017
Fences
Rating: PG-13
Rotten Tomatoes positive reviews: 93%
Adaptation of the Pulitzer Prize-winning play about a black garbage collector in 1950s Pittsburgh named Troy Maxson. Bitter about his lot in life, Maxson frequently takes out his frustrations on his loved ones.
9/25/2017
Silence
Rating: R
Rotten Tomatoes positive reviews: 85%
Two 17th-century Jesuit priests travel to Japan to locate their mentor, who has allegedly renounced his faith. There, their devotion is tested when they discover that Japanese Christians are being systematically exterminated.