Update – 4/1/2022
In keeping with recommendations from the CDC and the Racine County Public Health Department, mask use is currently optional for everyone. Curbside pickup and remote reference services remain available to all users.
The library is conducting in-person public programs and events. Persons feeling ill with COVID-like symptoms are recommended not to visit the library, but may feel free to call or email for assistance.
Update – 9/9/2021
In keeping with recommendations from the CDC and the Central Racine County Health Department, mask use is required for unvaccinated persons but recommended for all individuals regardless of vaccination status. Curbside pickup and remote reference services remain available to all users.
The library is conducting in-person public programs with reduced capacities. Persons feeling ill with COVID-like symptoms should not visit the library, but may feel free to call or email for assistance.
Update – 4/28/2021
The library has relaxed our requirement for appointments to use facilities. Library patrons are still required to wear masks and are expected to maintain social distancing. The number of available computers is still limited, so waits are possible. Seating also remains limited.
Per recommendations from the Wisconsin Department of Health Services, the library has discontinued our one-day quarantine of patron-handled items. Newspaper subscriptions have been resumed.
Patrons who cannot mask may still access library services through our curbside pick-up service, which remains active, and by logging into the library wi-fi from the parking lot.
Update – 2/10/2021:
Use of the Library building by appointment (including walk-in appointments) will resume on Monday, March 1. Curbside pick-up service will continue for the foreseeable future.
Update – 11/23/2020:
Burlington Public Library, along with all City of Burlington buildings, is closed to the public until further notice. Curbside Pick-up, virtual reference and programming, and outside book drops will remain available during regular library hours.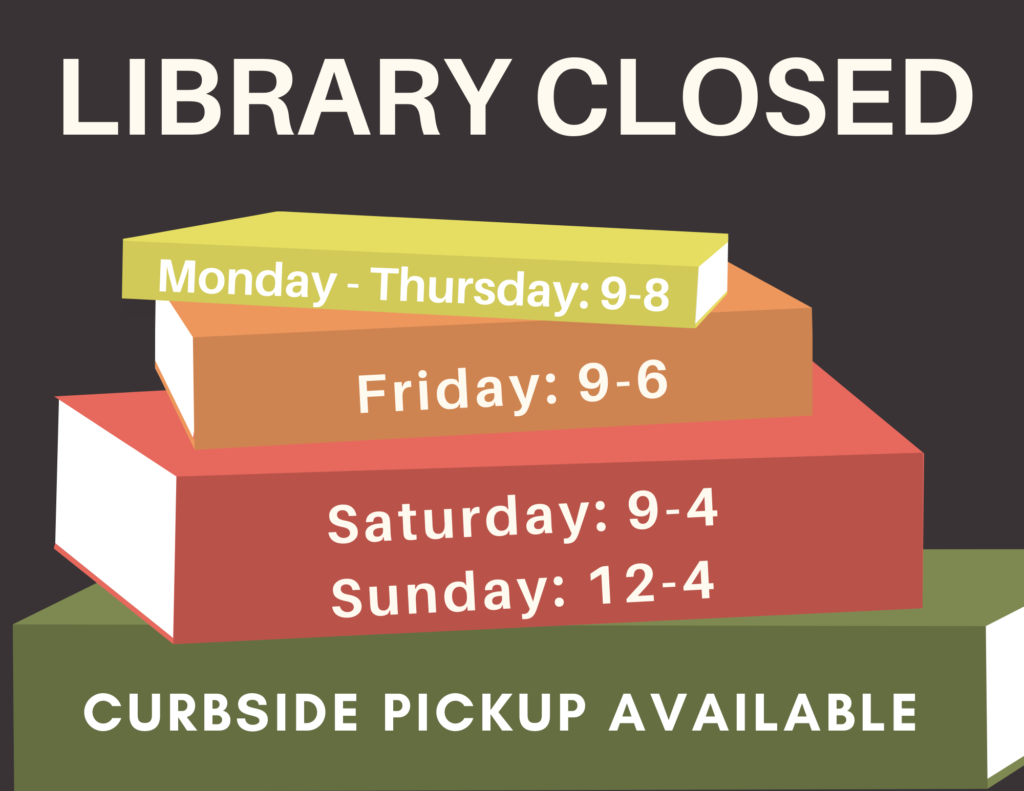 Update – 11/6/2020:
Burlington Public Library has reopened to the public as of Friday, November 6. Holds that were accrued during the closure will be available through Monday, November 9.
The library is still using walk-in appointments for computers and browsing to manage the total number of people in the building at one time, but we are open for business and happy to serve. Curbside and digital resources also remain available. If you have any questions, please don't hesitate to contact the library.
Update – 10/28/2020: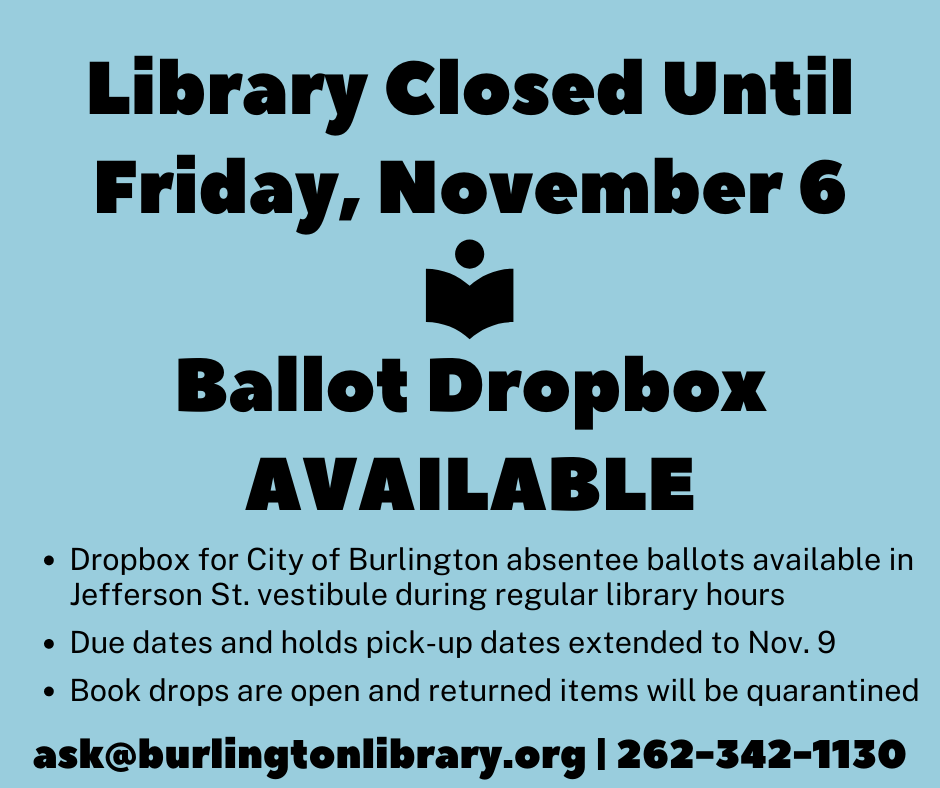 Several library staff were in close contact with a person who has tested positive for COVID-19. Out of an abundance of caution, the library will be closed until Friday, November 6 while affected staff complete their quarantine period. No library services will be offered during this time. However, the secure ballot dropbox will still be accessible via the Jefferson Street entrance.
All due dates for materials have been extended through the closure, and the pick-up date for reserved items has been moved to November 9. Items returned during this closure will be quarantined and may not be checked in until staff are available. However, all returns will be backdated (so no fines will accrue.)
If you need to use a computer or receive other library services, the closest libraries are in Rochester, Waterford, and Lake Geneva. If you have questions, free free to call or email the library.
Update – 8/19/2020: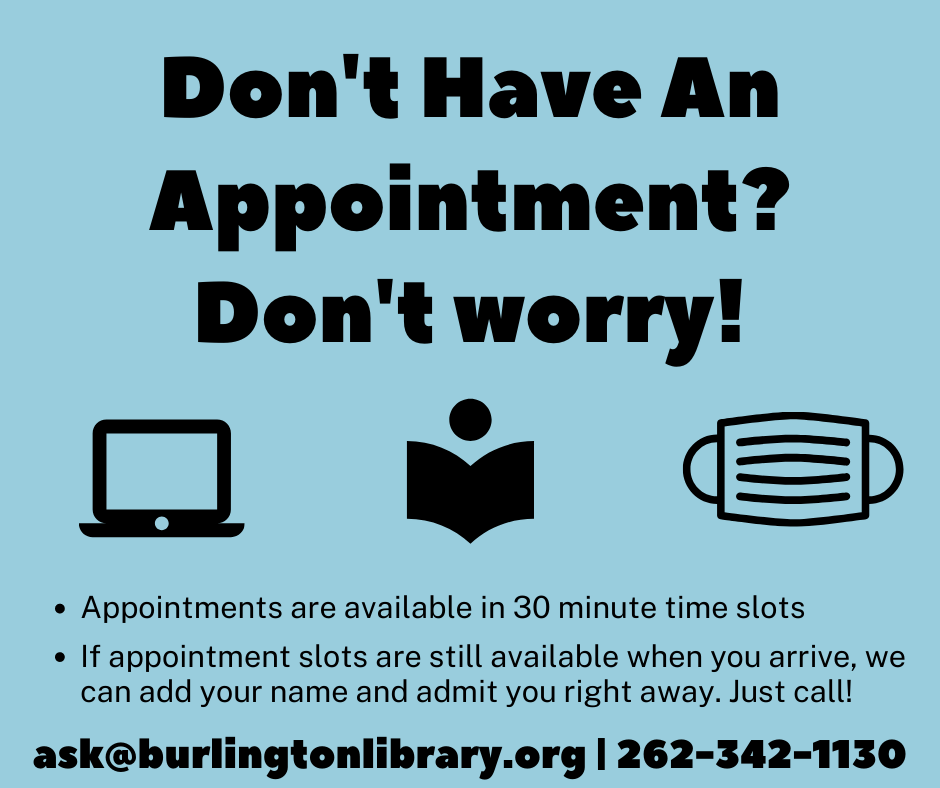 The library is open to the public 64 hours per week, but we use appointments to control capacity within the narrower areas of the library, including at our front desk and entryway. Please don't let that stop you from coming. We miss the public and we'll be eager to see you when you arrive.

Please note that if you do not have a mask, we'll be happy to give one to you.
---
Please note that at the recommendation of the Wisconsin Public Library Development Team, we have extended the quarantine on all returned materials to 4 days from the date of return. Returned items will be backdated to their date of return when they are checked in after quarantine.
---
Update – 6/18/2020: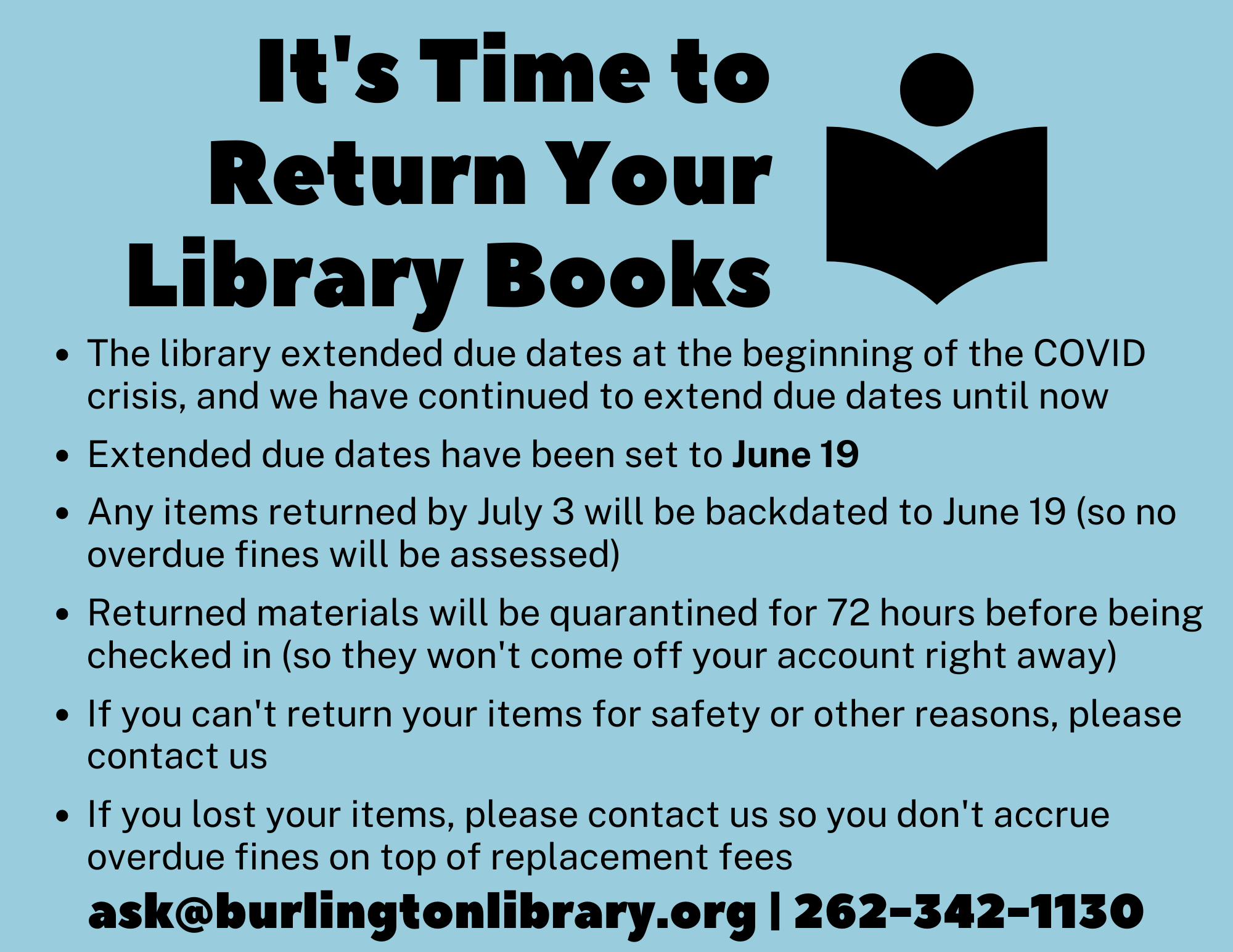 ---
Update – 6/15/2020:
Starting today, the library is open by appointment for computer usage and browsing the collection during our regular hours. Please call 262-342-1130 to schedule an appointment.
To control occupancy within the space and allow time for cleaning/disinfecting, there are a limited number of openings available at each time. All of our virtual and curbside services will remain available at this time.
These services remain unavailable:
Faxing
Hands-on computer and technology assistance
Sensory toys
Most newspapers
Most seating
---
Update: 6/11/2020:
The library will be open for curbside pick-up from noon to 4pm on Saturday. We'll begin offering appointments for computer usage and browsing next week.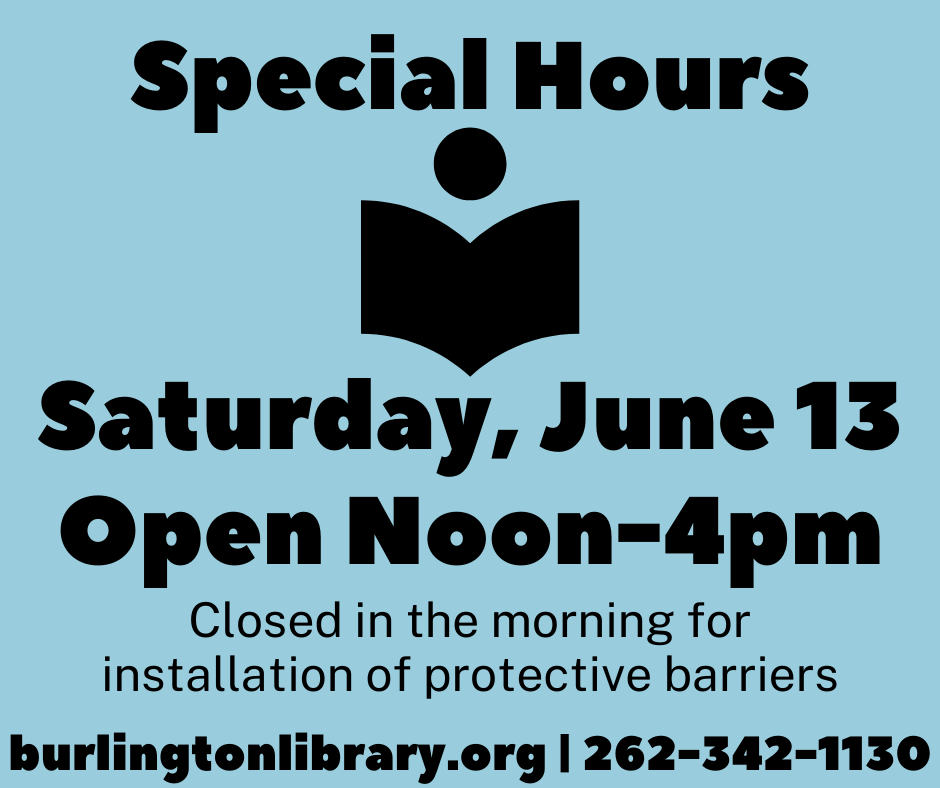 Update – 6/8/2020:
As of today, patrons can now place holds on materials from any library for pickup at the Burlington Library. Please note that interlibrary delivery will be slowed due to materials quarantines along the way.
We are still waiting for our plexiglass barriers to be installed. Once that has happened, we will be opening up computer and browsing to the public by appointment.
While we're closed, we're taking advantage of the opportunity to rearrange some parts of the Children's collection. We can't wait to show you the new setup!
Update – 5/14/2020:
For the time being, Burlington Public Library will continue to offer:
Contactless curbside pickup service for library materials
Information services by telephone, email, text, and chat to help patrons select materials for pickup and solve research inquiries
A wide array of free digital resources, including e-books, audiobooks, films, and educational courses
Daily virtual programming via Facebook
Free wi-fi access from the Jefferson St. parking lot.
Once appropriate transparent barriers are installed (after Memorial Day), we will resume limited-duration in-person computer appointments and will expand our curbside pickup service to our full daily hours of operation. We will also be debuting new software to allow a safe, socially-distanced Summer Reading Program for all ages.
We want to reopen, but we need to do it safely. In addition to the guidance of the Rebound Racine report, WEDC recommendations, and advice of the Central Racine County Health Department, the Library will also be utilizing the Guidelines for Reopening Wisconsin Libraries developed by the Department of Public Instruction in collaboration with libraries around the state to ensure safe service to the public as we reopen.
As new services become available, we will publish information about them here.
---
Update – 4/23/2020:
Curbside Holds Pick-Up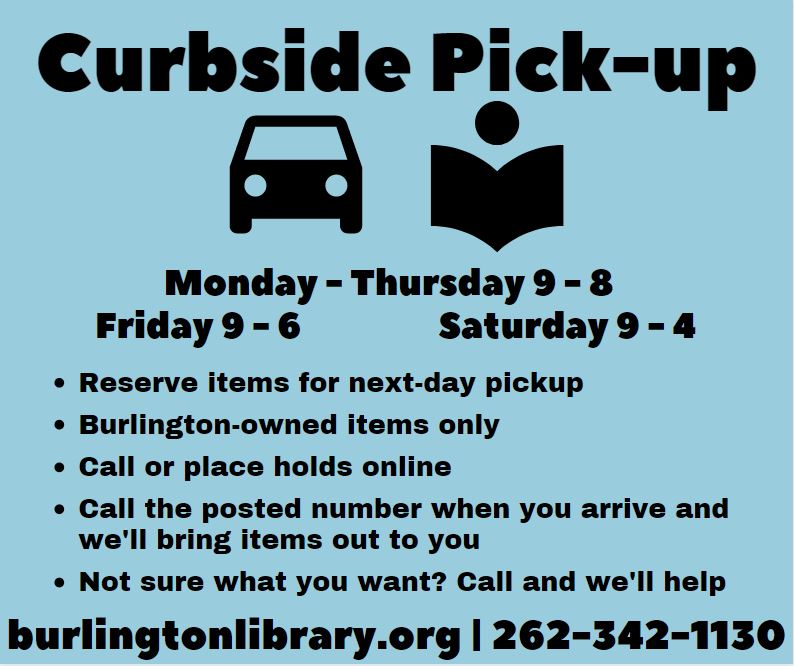 Curbside Pick-Up for Holds begins on Saturday, April 25.
Hours of Service

Monday: 9-8
Tuesday: 9-8
Wednesday: 9-8
Thursday: 9-8
Friday: 9-6
Saturday: 9-4
Sunday: Closed

To pick up an item at curbside, please place a hold in the library catalog or call the library for assistance. Please note that only Burlington-owned items are available for reservation at this time.
When you arrive to pick up your reserved items, please call the number on the sign and staff will bring your items out to you. To minimize contact and increase social distance, please open a trunk or passenger side window. Staff will ask you to confirm your identity.
If you're not sure what to read (or watch or listen to) next, please feel free to call us for Reader's Advisory suggestions or fill out the What Should I Read Next? form.
In order to protect the safety of our staff and comply with staffing levels mandated in the executive order, we cannot provide same-day pick-up for items. Library staff will call you when your items are available.
Library Communication Center
The library has added additional communications channels to make it easier to get in touch with us, as well as changing how we offer some others.
Contact Methods

Email: ask@burlingtonlibrary.org
Phone: (262) 342-1130
Text/SMS: (262) 217-7613
Chat: Find the Chat with Us button on the bottom right of every page of the library website.

Burlington Library personnel are staffing the Library Communication Center from 10 a.m. to 6 p.m., Monday-Saturday.
We are working collaboratively with several other libraries, so you may be connected to one of them. Rest assured that they can still help place a hold on items for you. If you'd prefer to talk to staff from Burlington, just leave a message with them and they'll pass it along to us.
Materials & Returns
All items are currently due May 15, with an expectation that those dates will be extended to June 9 soon.
The outdoor book drop will reopen on Saturday, April 25. If you can wait another week or two to return the items that you have out, please do. We are expecting a high volume of returns and we have limited staffing.
All returned items will be quarantined for 3-6 days before they are checked in by library staff.
Virtual Programming
The library is doing daily programming via our Facebook page. Below is this week's schedule of events.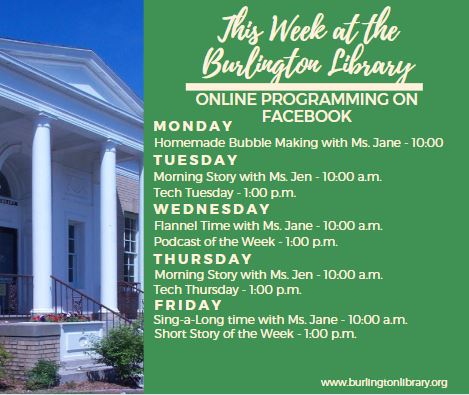 ---
Update – 4/21/2020:
Our monthly BookPage book preview magazine is available below. The May issue will be delayed until late May.
---
Update – 4/19/2020:

The library will remain closed to the public until at least Tuesday, May 26.
Burlington Library will resume curbside pick-up on Saturday, April 25. Details are still being finalized, but we'll share as soon as we can.
You may begin placing holds for

Burlington-owned items only

via the online catalog effective Tuesday, April 21. You may also call or email the library.
All due dates will be extended to June 9. The book drop will reopen on April 25, but please do not rush to return items. Returned items will be quarantined for at least 72 hours.
All card expiration dates will be extended to August.
The Library will continue virtual programming on Facebook at least through May.
The library website now features a Chat function to ask questions. A new text service and updated telephone reference hours will be rolled out soon.
The best way to reach us at this time is by email: ask@burlingtonlibrary.org
---
Update – 4/2/2020:
Overdrive/Libby has made the e-book and audiobook of Harry Potter and the Sorcerer's Stone available for free for the month of April.
---
Update – 3/31/2020:
Due dates for all materials in the SHARE consortium have been moved to May 15, 2020, and will be moved again if there is any extension of the Safer at Home order. All materials will be due two weeks after we reopen.
Update – 3/30/2020:
Check out our virtual programs via the Burlington Library Facebook page.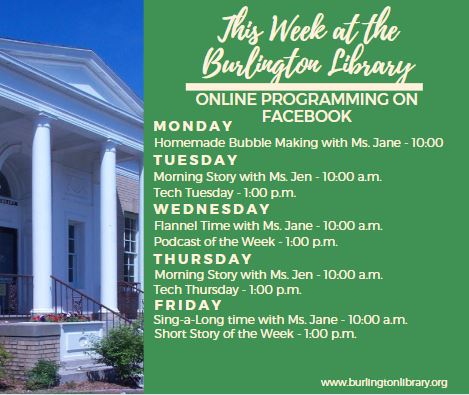 ---
Update – 3/29/2020:
Web Resources:
Jen answers some frequently asked questions about the library during the present closure.
---
Update – 3/24/2020:
Library wi-fi (bplpatronnet) is accessible from the library parking lot 24 hours a day. Park next to the building (to the left of the ramp on Jefferson St.) for best reception.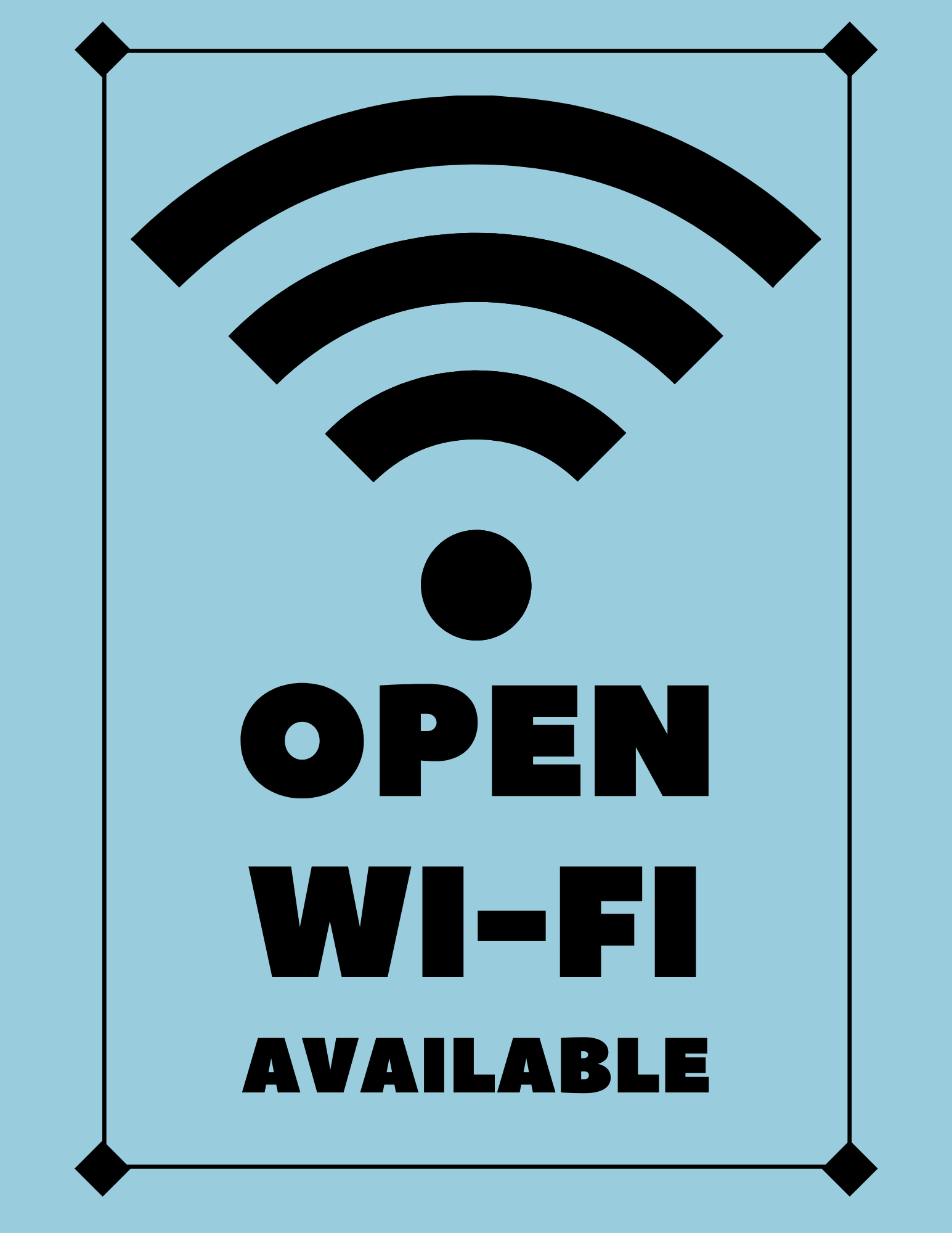 ---
Update – 3/23/2020:
In response to the pending safer-at-home order for all Wisconsinites, Burlington Library will be suspending curbside holds pickup beginning on Tuesday, March 24. Library book-drops will also be closed, and all due dates will be extended until we reopen. You can still get to all of our digital resources via http://www.burlingtonlibrary.org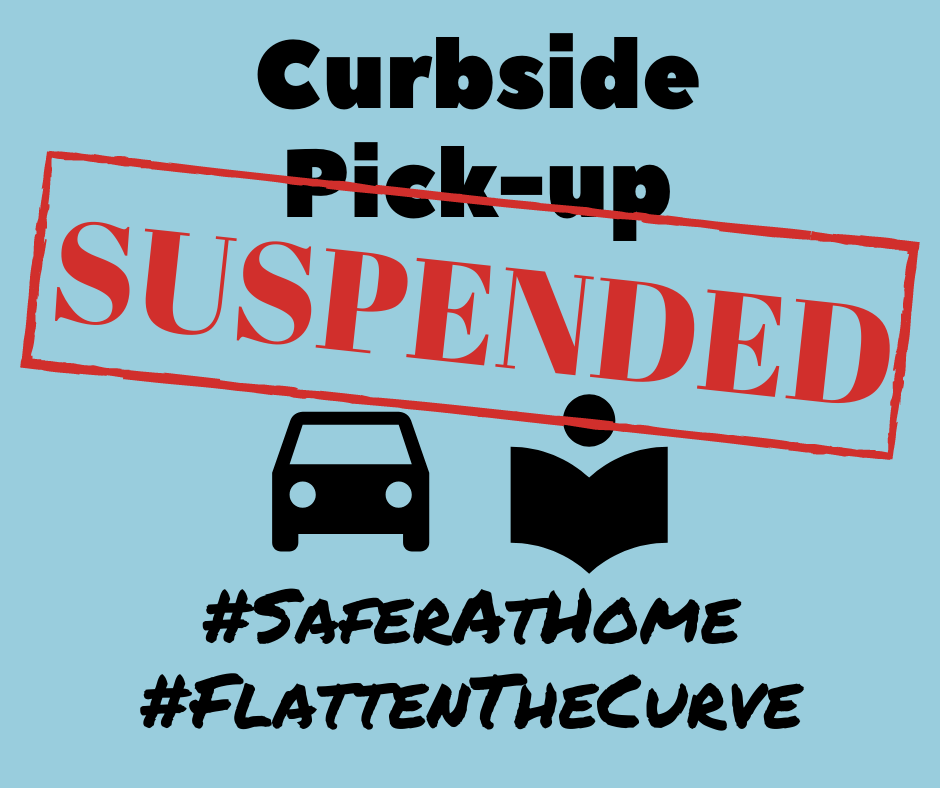 ---
Update – 3/16/2020:
How does curbside pick-up work?

Step 1: Place a reservation on an item using the Library Catalog or by calling the library for assistance.
Step 2: Call the library for pick-up. You can either:

Call before you come and we'll leave it on the shelf outside the Jefferson Street entrance for you to grab, or
Call when you arrive and we'll bring your items down to your car.

Curbside pick-up will be available for materials on the following schedule this week:

Tuesday: 2:00 – 6:00 p.m.
Wednesday-Saturday: 10:00 a.m. – 2:00 p.m.

What is the best way to contact the library for help?


email: ask@burlingtonlibrary.org
phone: 262-342-1130 (please leave a voicemail if no one picks up)

How do I get a library card? Or get a new one? Or renew the one I have? Or get a PIN?

Call the library for help: 262-342-1130

What will the library staff be doing during the closure?


Helping with the curbside delivery service and helping people with telephone-based inquiries
Preparing for the summer reading program and other future programs
Providing some remote programming via Facebook
Over half of our staff are in a high-risk category for COVID-19. We are asking them to work from home. They'll be helping with e-mail requests, training on tech topics, or just staying safe at home
We're still working out a lot of the details. If you call and no one picks up, please leave a voicemail so that we can reach you.

What can I access with my library card without leaving home?
Will I still be able to get materials from other libraries?

Inter-library delivery services are expected to be suspended at the end of this week or early next week.

What should I do with my items that are due?

All due dates have been extended to April 11, and will be extended again if the situation continues.
Anything that is returned will be quarantined for ten days before being checked in or handled by library staff.
Registering for a FREE Digital Library Card
---
Update – 3/14/2020:
The Library building will be closing to the public beginning on Tuesday, March 17.
Curbside pick-up of materials will be offered (details TBD).
All due dates for Burlington materials are extended to April 6.
All public programs are cancelled through at least March 29 April 4, 2020.
Dear Patrons,
The safety of our patrons and employees is a priority to Burlington Public Library (BPL). We are working to stay on top of this evolving COVID-19 situation by following guidelines from the Centers for Disease Control, WI Department of Health Services, and the Central Racine County Health Department.
Our current plan is to: 1) prioritize the safety and health of our staff and patrons; 2) continue serving your library needs for the time being; 3) plan ahead for changing circumstances.
What can you do?
Wash your hands. Cough into your elbow. Stay home if sick.
According to the most recent information from the CDC, for most people, the immediate risk of being exposed to the virus that causes COVID-19 is thought to be low. We encourage any concerned patrons, especially those in high-risk populations, to stay home if they are feeling ill or are simply concerned about potential exposure.
Please keep in mind, as a public space, the Library cannot guarantee a germ-free environment or germ-free physical materials. You need to consider if using library materials, or visiting the Library or other public spaces, is best for you and your family. As a reminder, the Library has many digital services available to you for free; check out our collections at https://www.burlingtonlibrary.org/resources/
What is Burlington Public Library doing?
Library Cleaning: We want you to feel confident visiting BPL. We contract with an outside cleaning company which cleans the library three times per week. In addition, library staff have developed a schedule of disinfectant wipe-downs of high-traffic areas like counters, door handles, light switches, keyboards, tables, etc.
Library Materials Cleaning: Collection materials are not disinfected when they are checked-in or as they are browsed or used in-house due to limited resources and supplies.
Staff and Patron Hygiene: While supplies last, we are making hand sanitizer and wipes available to staff and patrons, plus we are encouraging frequent hand-washing by everyone.
Library Services: We are developing staffing and service models should we need to reduce services.
Next Steps: We are monitoring this developing situation closely, staying up-to-date on info from federal agencies, health organizations, and other experts.
We will continue to communicate any further impacts to BPL. Thank you for working with us to keep BPL a healthy environment.
Have a safe and wonderful day,
Joe Davies MLIS, MA
Library Director
jdavies@burlingtonlibrary.org
262-342-1133